Tarannum
This pretty young lady is Tarannum. She belongs to a family of seven and her father is the only earning member.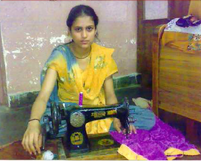 She came to DCCW to take a course in stitching and this is what she does now – she takes sewing orders from the community around her and brings in Rs. 2000 to 2500 every month!
Her parents are very pleased as you can imagine – but Tarannum has plans to grow into an entrepreneur, with her own shop and staff!
Good Luck Tarannum!