Rakhi
Meet Rakhi, a pretty determined young lady who knows no borders. She is learning to sew at our Vocational Training Centre in New Seemapuri and also working towards finishing her 12th Class through the open school. Both her parents are daily wage labourers earning about Rs 3000/- per month.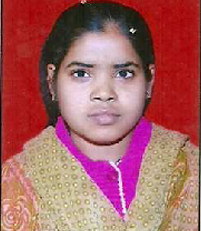 Enough to deter most young people but not Rakhi! She augments the family income by stitching late into the night. Her earnings will provide the family with one meal a day, and her siblings can grow into healthier adults.
DCCW is proud of our children who have more than proved their worth and their awareness of the problems faced by their parents. Rakhi - and children like her - are crossing social and economic borders to shape a better future for themselves.
All the very best of luck Rakhi.