Lucky
Lucky Sahani is a 17 year old boy who comes from an underprivileged family. He studies in class XI in a Government School. He belongs to a family of five. Since the last 5 years he is enrolled under our Educational Sponsorship Programme. His father is a salesman and his mother is a housewife. He has one elder brother and one elder sister. His brother is his friend, philosopher and guide. They live in their own house.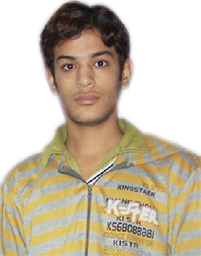 The meagre income of his father is not sufficient to meet the family's needs as well as educational expenses of three children. Lucky's family feels that the sponsorship assistance came as a boon to them as it covers the cost of his entire school fees as well as fees related to his computer learning.
Lucky secures first position in his class and he is very sincere towards his studies. Recently DCCW held an eye check up camp in collaboration with Dr. Shroff's Charitable Eye Hospital, where Lucky was diagnosed with Intermittent Exotropia problem. The doctors suggested immediate surgery otherwise as Lucky grew older his left eyesight would become very weak. The family's financial condition did not allow them to opt for the surgery. But DCCW has sponsored the eye surgery of Lucky with a very little contribution from the family. The family feels that DCCW is more than family to them as it is not only helping Lucky to continue with his studies but also equally taking responsibility of his general well-being.