PALNA Shishu Kendras
The PALNA Shishu Kendras prepare young underprivileged children in the age group of 2 to 6 years to enrol in mainstream schools. Starting with two centres in 2014 at Qudsia Bagh and Janakpuri, we now run 10 units at 7 centres across several slum / resettlement areas of Delhi including Dakshinpuri, Madipur, Pandav Nagar, Trilokpuri. Over 450 children are enrolled in this programme, with about 40-50 children in each unit. Where the children belong to particularly impoverished backgrounds, they are also provided with clothes and shoes by the kendra.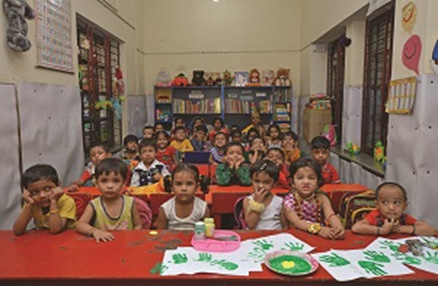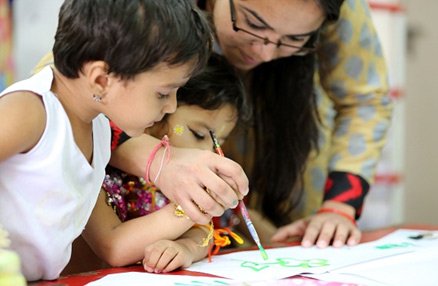 We have changed the method of teaching from rote learning to concept based learning. This prompts the children to explore and learn for themselves, with the teacher being the facilitator. Additionally they have games, arts and craft. They are also taught basic hygiene and its importance, posture and manners. This orientation instils discipline, manners, health and confidence in the children, even as it induces learning. A monthly medical check by our visiting medical officers completes the care. The overall atmosphere is a cheerful and caring one and the children look forward to coming to the kendra.
The kendras also guide parents on how to apply for school admission and the documentation that is required. Mock interviews prepare them for the process.
That the programme is a successful one is borne by the fact that over 85% of children eligible for entry to regular school have successfully enrolled in mainstream schools of the city.
Case study : Vashu
Vashu joined our Palna Shishu Kendra at our Poothkalan centre in Delhi in March 2017 as a four-year-old. His father works in a small private company and his mother is a home-maker. The family lives in a one room rented dwelling.
When Vashu got enrolled, he was an introverted child and did not mingle with the other children. He was under-weight for his age, and would not feed himself, needing to be spoon-fed. He was prone to catching colds. He had had no exposure to any sort of academic learning, formal or informal.
In just one year, Vashu has made tremendous progress. He can now read and write the alphabets in both English and Hindi, and can count up to 30. He can recognise colours and various fruits names. He likes playing games and participates in every activity in the class. Overall he is an obedient child. His health has also improved with a focus on his nutrition and with supplemental tonics given to him at the centre. He now feeds himself, has gained both weight and height, and no longer falls sick.
We are proud that Vashu has got admission in Laurel Convent School - much to the delight of his family and teachers!