Working Children's Project
Working Children's Project
The Working Children's Project was initiated in 1987 and reaches out to children working in the unorganised sector. These children are engaged in poorly paid and hazardous jobs, usually alongside their parents. These children are vulnerable to various diseases and malnutrition, and often live and work in unhygienic conditions. The Working Children's Project provides them with nutritious food, education, vocational training, health facilities, recreational activities, and keeps them off the streets. The programme has about 100 working children enrolled.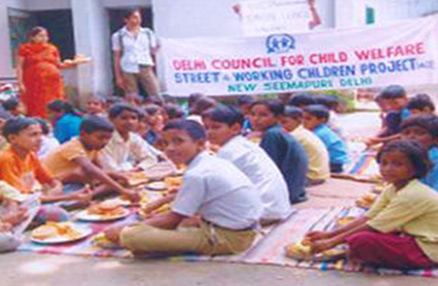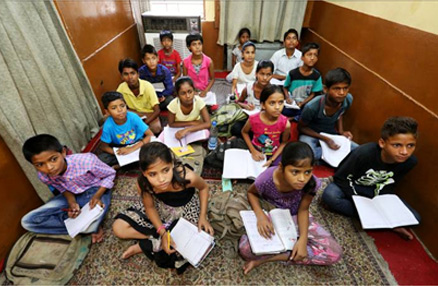 We impart non-formal education to the children, and wherever possible also guide them and their parents on the process of getting enrolled into mainstream school. In fact, we have met with a good amount of success in this endeavour. The children's health is monitored and necessary supplements provided. The children are also taught a vocational skill to help them as they grow up.
Case study : Vishal
Vishal lives with his family of four in New Seemapuri. His father is a cleaner with a private company and his mother cleans private homes. The family's monthly income is about Rs 9,000. Vishal contributes to the family income by packing toys at home for a daily wage. His earning of Rs. 20-30 every day is valuable for meeting monthly needs.
Vishal joined our centre in 2015. When he arrived he was disinterested in his studies both at school and at the centre. He stubbornly refused to participate in any activities. Sustained counselling and efforts by the staff slowly drew him out and he slowly started taking interest. Gradually his defiant attitude softened as he seemed to enjoy the activities. He also started taking interest in his studies, besides sports, art and craft activities.
During parent-teacher meetings his mother shared that she observed a positive change in him. He had started studying at home and had become obedient. His scores started improving, not just at the centre but at school too. His family and we were equally delighted. Vishal is a very intelligent and creative child. He loves new challenges and digs his heels in to meet them. Nowadays he is stepping in to help the instructor develop training material for other students!