Vocational Training Programme
VOCATIONAL TRAINING PROGRAMME
The Vocational Training Programme, started in 1976, is run for girls from underprivileged families of resettlement colonies and the urban slums of Delhi. It operates at 13 centres, empowering over 650 young participants with skills and practical competencies for the job market, every year. The programme has seen a steady increase in the number of beneficiaries over the years. The courses are accredited by NIOS and JSS, both government certifications, qualifying the girls for government jobs.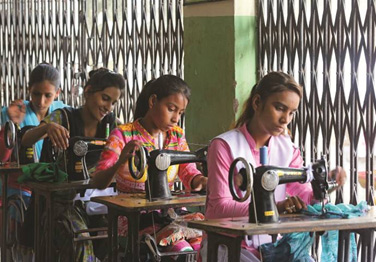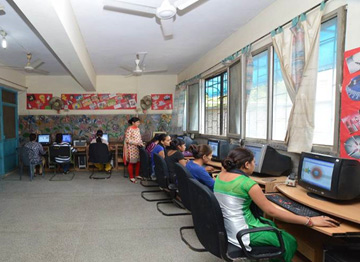 The courses offered, namely, tailoring, beauty culture, computer graphics and animation, allow girls to work within or near their homes, even after marriage, without requiring large investments. The training courses are 6 / 12 months long and the trainees simultaneously undergo sessions in English-speaking, confidence-building, motivation, communication and presentation skills, etiquette and attire, along with legal rights and self-defence. Complementing these are sessions of art and craft, especially handicraft and painting.
Our greatest achievement has been the delay in the average age of marriage of these girls from 16 years to 23 years! New confidence and independence inculcates a desire to prove themselves rather than simply submit to marriage from economic compulsion. We also observe that a large number of our young girls turn entrepreneurs. They start their own beauty parlours and tailoring shops, making them in a small but significant way, masters of their destinies!
Case study : Darshana shows the way
Darshana belongs to a very poor family of five members. She lost her father very young and her mother works hard to earn a living and support the family. Darshana's mother is keen that her children get educated.
Darshana registered at our Bawana centre for the stitching and tailoring course. Soon she started stitching clothes for her family and then extended it to stitching clothes for people in the neighbourhood. She started earning around Rs 3,500 every month. She then felt the need to extend her skills. She registered for and completed the beauty culture course too at our centre.
Today Darshana does mehendi ( henna art on the hands) and other beauty jobs which has increased her monthly income to Rs. 5,000. Every month she promptly hands the money to her mother towards running the household.