Bal Chetna, our home and day-care facility for mentally challenged children was established in 2002. The impetus to start a programme for mentally challenged children was three-fold: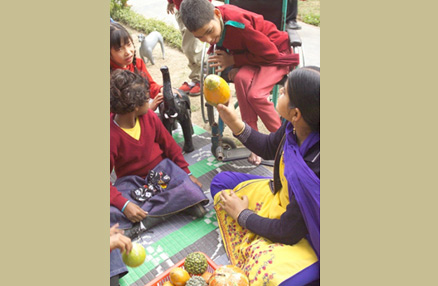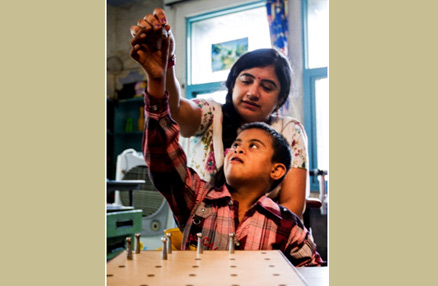 Increasing numbers of mentally challenged children abandoned at Palna

TM

Surveys done by our staff in resettlement and slum areas indicated that there was a high proportion of children with mental disabilities who were not getting the attention they needed
An increasing number of children with cerebral palsy and multiple disabilities had started coming to the Orthopaedic Centre for help and advice.
Today Bal Chetna comprises residential facilities for homeless mentally challenged infants at PalnaTM, as well as day-care facilities for children from economically backward families at:
The Orthopaedic Centre, Janakpuri
Nithari
Sultanpuri
Each centre has about 30-35 children. By providing individualised and specialised care, Bal Chetna facilitates the stimulation and development of special needs children, with the objective of making each child as self-reliant, competent and communicative as is possible.
Services offered at Bal Chetna include:
Physiotherapy / Occupational Therapy
Music / Play Therapy
Special Education
Speech Therapy
Vocational Training
Psychological Evaluation
Parents' Meetings and Counselling
Home Training Programme
Midday meal and Supplementary Nutrition
Parents are required to attend the day care programme once a week to help with the sessions and more importantly, to learn the routine so that they can follow it at home.
The multi-specialty team at Bal Chetna is constantly improvising upon teaching aids and techniques to provide a variety of stimuli to the children. Bal Chetna children now participate in sports meets and handcraft items things like rakhis and paper bags. They act in in plays, dance and sing on festivals.
It is a matter of pride for us at DCCW that many children from Bal Chetna have been integrated into mainstream schools as well as institutes for advanced courses in vocational training.
Case Study : Bulbul
Bulbul was a four-year-old special needs child who joined our Bal Chetna Outreach Centre in July 2016. She belongs to an underprivileged family – her father earns Rs 4000/- per month, and mother is a homemaker. They have 2 children and live in a 25 sq foot rented room. Bulbul has spastic diplegia and at the time of joining the centre she had 75% percent vision loss bilaterally and had excessive rocking movements, and was dependent on others for going to the toilet. Her physical abilities were limited to crawling and independent sitting for few minutes. She was not able to stand, had poor academic skills, and avoided fun activities with other children as she used to get exhausted very quickly.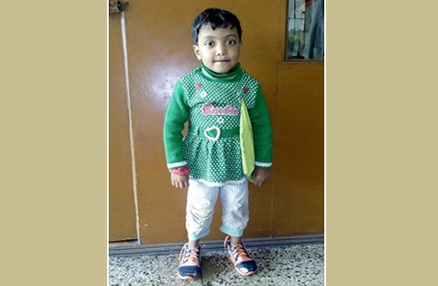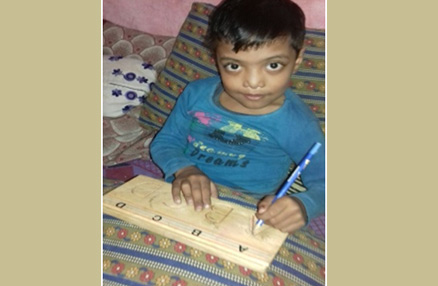 Bulbul has been undergoing multi-faceted physiotherapy, speech therapy and special education at the centre, along with a focus on the right nutrition. She received Vitamin-A supplementation and also immunomodulators for recurrent tonsillitis. In less than eighteen months Bulbul has made remarkable improvement in her physical condition and in her academic skills. She first achieved her standing milestone, and then she started walking short distance with rollator. Soon, she overcame her dependence on toilet activity. She has learnt names of several vegetables and fruits. Her pre-writing skills have improved and her academic skills are now near her normal age group. She is undergoing weight bearing exercises of lower limbs, trunk control exercises, kneel positioning, kneel walking and rollator walking. She is now able to walk a short distance by herself. She is learning dot-joining and tracing as well as shapes and currency recognition. She participates in almost all activities now.
Today she is an example for other children who have potential. Her parents could not be happier!