EDUCATIONAL SPONSORSHIP PROGRAMME
The Educational Sponsorship Programme provides financial support to academically bright children from low-income families who are otherwise be forced to drop out of school from economic compulsions. About 1,000 children receive sponsorship.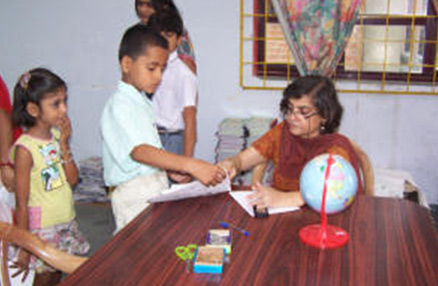 The programme offers the following services:
Financial support to cover fees in the form of a monthly stipend
Guidance and Counselling (Subject / Career Counselling)
Health Check-ups
Sponsorship Day Celebrations
Annual Prize Distribution for meritorious children
An annual gift for all children
Annual distribution of stationery to all children
Special assistance to meritorious children seeking to pursue higher studies
The progress of the children is closely monitored and incentives in the form of gifts and prizes are given to those who fare well academically. They are regularly counselled to help perform better. Sponsors are kept abreast of the progress of the children through progress reports twice a year.
The Sponsorship Programme is targeted at the vast, urban poor. About 5% of the children are differently-abled and we give special consideration to children of single parent families. The programme has succeeded in keeping children in the classrooms and off the streets, even inspiring many to pursue higher studies.
Case Study : Himani makes us proud!
19 year old Himani was one of the brightest and most motivated students in our Educational Sponsorship Programme. She started her journey with DCCW in 2009, when she was only 11 years old.
Himani belongs to a family of six. Her 3 siblings also went school. The family's fragile finances forced her parents to work long hours in despairing conditions. But they were determined that their children continue to study. The DCCW sponsorship came as a great boon to Himani's parents. She now received a stipend every term which enabled her to buy extra books and stationery. A child with a naturally curious and enquiring mind, Himani greatly benefited from this. Career counselling sessions further helped and encouraged her to think of a productive future, far from the deprivation of her childhood.
With a one-time financial grant to her for securing over 85% in the school- leaving examination, today, young Himani is studying for a Bachelor of Science at Miranda House College, Delhi University! She is ambitious and wants to have a career in academics. We wish her the very best!