Supervised Homework Scheme
Supervised Homework Scheme
The main objective of the Supervised Homework Scheme is to reach out to underprivileged children who would otherwise drop out of school for not being able to keep up with school work.
We have been operating this scheme from 1958 and it is aimed at school-going children in the age group of 6 to 13 years. The programme operates in several centres spread across Delhi and has over 300 children enrolled.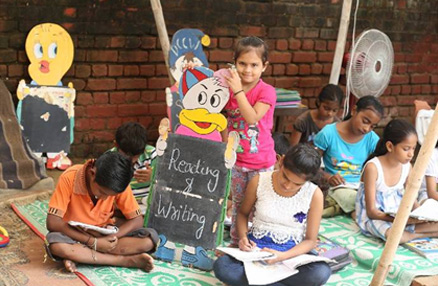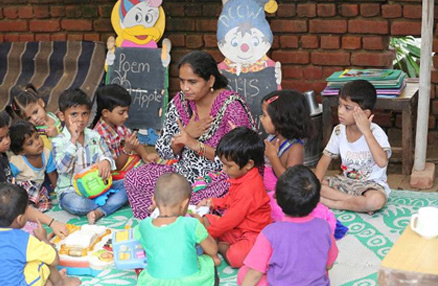 Classes are held for two hours on all working days, usually in the afternoon. The tutors running the programme are selected after their abilities are evaluated. The performance of the students is continuously monitored to ensure that the scheme serves its purpose. Alongside academics, there is also story-telling, reading, music, quizzes and leadership exercises for the holistic development of the children. Parent-teacher meetings and regular checks of the children's health indices are also important components of the programme.
Case Study : Sabina
Sabina is 11 years old and is enrolled at our Madipur centre. Her father is a cobbler earning Rs 6,000 per month, with which he supports his wife and four children.
Sabina studies in a local government school. When she first arrived at our centre, she could scarcely read, write or do arithmetic. Gradually with help, Sabina began to read and write simple sentences in English and Hindi. Over a year, she learned simple addition, subtraction, multiplication and division. A systematic strategy with a timeline was set in motion for the milestones to be achieved by Sabina.
Now Sabina has come a long way. Recently she stood first in her class with a score of 91% in her annual examination! Her parents were overwhelmed. Seeing her penchant for academics, we have integrated Sabina into our Educational Sponsorship Programme.