Sunil
Sunil, a polio affected child, came to the Orthopedic Centre in 1997 for treatment and correction of deformity in his lower limb. He could not walk on his own due to the severe orthopedic disability. He underwent corrective as well as specialized ring fixator surgery in multiple stages. Post-surgery he underwent intensive physiotherapy and mobility training in calipers. After his treatment, he went back to school to as he was eager to avoid delays in his education.. Seeing his excellent school performance and teachers appreciative feedback, he was put on the Council's Educational Sponsorship programme till the 12th standard.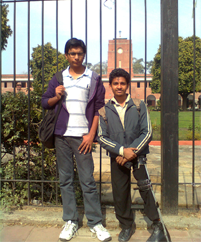 Sunil is now doing Mathematics (Honours) from St. Stephen's College (Delhi University) and wants to go in for higher studies after graduating. His parents are very happy with his academic performance and try to give him the best within their limited resources. His father is employed in a factory as a helper on a monthly salary of Rupees 6000/-. The family comprises of his grandparents, parents and a younger school-going sister.
Sunil is now being supported financially for higher studies by one of our sponsors enabling him to pursue college education without any financial constraint. Apart from studies, his hobbies are reading novels, playing chess, badminton and watching comedy shows.